Effective consumer protection requires complete controls at all stages of food production. This also includes animal feed.
FAMI-QS is a global quality and feed safety management system for Speciality Feed Ingredients.
After completion of audit & certification process, the company is named on the FAMI-QS website. The certificate is valid for three years. The continued validity of the certificate is confirmed during annual surveillance audits and an additional unannounced audit within the certification cycle.
FAMI-QS complies with the guidelines of the IAF MLA (International Accreditation Forum Multilateral Recognition Arrangement). The standard is applied in all EU countries, Norway and Switzerland and is also used internationally in about 50 countries.
Advantages of the FAMI-QS Certification for the organization:
Increase of product safety and quality in your company
Supports organization to ensure compliance with the legal requirements
Increase customers' confidence in your management system
Internationally recognized standard according to standardized procedure
Early error detection enables appropriate corrective measures to be taken
Cost savings through improved risk management
1. What is FAMI-QS?
FAMI-QS is a global quality and feed safety management system for Speciality Feed Ingredients.
The FAMI-QS code has the same high level structure as the well-known ISO management system standards. The code is adopted by FAMI-QS Asbl, a non-profit organization. To ensure a harmonised certification process, FAMI-QS works with qualified certification bodies such as TÜV NORD CERT. FAMI-QS conducts regular training courses.
You can find further information here: https://fami-qs.org/home-6-0.htm
2. Which companies are certified against FAMI QS Standard?
FAMI-QS Asbl provides a database of all validly certified feed producers. It is updated regularly and you can find it under this link: https://fami-qs.org/certified-companies-6-0.html
3. Where can I find the requirements of the FAMI-QS Code and the FAMI-QS Standard?
The requirements of the standard are described in the FAMI-QS Code with the associated process documents: https://fami-qs.org/code-6-0.html
In addition to this, FAMI-QS has established guidelines for the farms, these guidelines are set out in the document "Rules for Operators". https://fami-qs.org/rules-6-0.html
4.What are the objectives of the FAMI-QS Standard?
FAMI-QS has the following objectives:
Reduction of hygiene risks for animal feed
Improving the quality of feed used
Enforce compliance with legal requirements in the area of feed safety
Minimization of potential risks
5.Who should work with FAMI-QS Standard?
The Code is addressed to all producers and traders of special feed ingredients. A definition of special feed ingredients can be found below.
6. What are special feed ingredients?
Special feed ingredients are not added for the sake of nutritional value, but to influence the performance of the animal or the characteristics of the feed.
In the FAMI-QS Standard they are defined as follows: Any ingredient intentionally added which is not normally consumed as feed itself, whether or not it has a nutritional value that affects the characteristics of feed or animal/animal products and the performance of animals.
7. How do I prepare my company for FAMI-QS certification?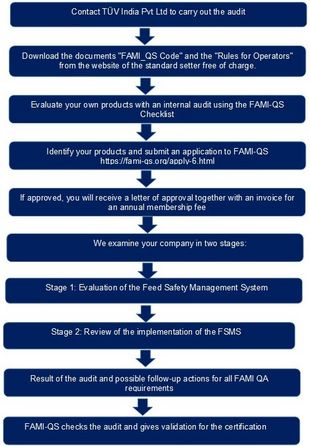 We are looking forward to your enquiry
TUV India Pvt Ltd
TUV India Pvt. Ltd
801, Raheja Plaza- I, L.B.S Marg, Ghatkopar (W) Mumbai 400 086