How to Read a Food Label ? Part 1
You are standing at the aisle at your local supermarket, reading a packaged food item, deciding whether you should purchase this or not because you want to eat healthier. Have you ever wondered if you are actually reading the label correctly?
As a common consumer, we tend to look at basic information on a pack of food, name, brand name, the price, the expiry date, and the very well displayed "claims" such as no sugar, gluten free, vegan, etc. Only a handful of people read the nutrition facts table, ingredients paragraph, storage instructions etc.
There is no "right" or "wrong" way to read a label. We notice and read what our human brain is attracted to in a product. In recent years, with an increase in consumer awareness and demand in eating nutritious, safe, healthier options, manufacturers have changed and improvised their labelling styles. This has also led to global and national regulatory authorities to revise laws for food package labelling.
Research and data shows that the labelling on a pack of food, contributes to a buying decision of consumer. Even if it is a known brand, consumer today takes their time to read and understand the label before making a purchase decision.
This article will help you understand why ingredients and other details which you usually look past as it doesn't concern your health, but why and how such details have a legal and quality effect on the product.
Ingredients-
A very important part of a label, which will help you understand what your product contains is the ingredients information. Thumb rule of all ingredient declarations are that the first ingredient mentioned is the one that makes up more than 50 % of your product, followed by a descending order indicating the amounts. So basically, highest to lowest amount of said ingredient is clearly labelled for you.
The ingredients information is where you can find crucial data such as below-
Artificial sweeteners
Preservatives, Emulsifiers, Stabilizers
Natural (or) Synthetic colors
Natural (or) Nature identical (or) Synthetic flavors
General data of product-
These details are important from legal point of view for a product. These are often looked past as they do not contribute to your nutrition choices, but are important from quality and product safety viewpoint.
FSSAI License number and logo
Fortified food logo/ Jaivik Bharat logo (organic food)
Product category- Often mentioned around ingredients, this name is the standardized/classified category of your product under the FSSAI regulations
Batch/Lot number
Consumer care details
Address of manufacturer/importer/packer/distributer/marketer
Instructions for use
Directions for Preparation/Storage of product-
Any pack of ready to mix/ready to cook product in the market is guaranteed to have details on the back of package where the manufacturer gives you instructions on how to ideally prepare this product. These are just recommendations on how the product should be prepared so as to get the most ideal final product for consumption. Products which need to be refrigerated or kept at places with less light and humidity come with the words "Store at" followed by instructions. This is also crucial as your products shelf life is at its best when stored as intended.
Pro tip- The suggestions given are on the basis of research and analysis done by the manufacturer, meaning this is how you should ideally consume this product. The nutritious facts labelled in such cases are also most relevant when the product is prepared and consumed as intended by the manufacturer.
Allergens-
In the global scenario, allergen declarations have been in place for many years. Allergens are naturally occurring compounds which in few cases cause severe health reactions in humans and could also lead to death if not treated on time.
Allergens are common food ingredients such as milk, gluten from wheat, egg, nuts, and many more. As these are often impossible to exclude from maximum number of processed food commodities, declaring their presence on label is very crucial from a safety point of view.
FSSAI has now mandated allergen declaration on all packaged processed food commodities. The manner of declaration depends on the manufacturer.
Often allergens are declared near the ingredients information and (or) declared as graphical symbols for easier identification. Most commonly right under your ingredients information will be the words
"Contains (or) May contain Wheat, Soy, Milk" "Processed in same plant as tree nuts, sesame"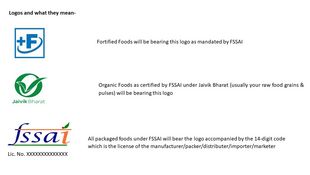 To help make easier choices while selecting nutritious foods, next time you pick up a pack of food at any store, take some time to read through the ingredients, claims, allergen details. These are factors that will affect your health and it is important that awareness starts with the consumers.
All food packs have ample amount of information labelled on them, it is you and me who need to read and understand what is important and interpret the same with facts to make the final purchase decision.
At TUV India, our team of experienced and highly skilled experts support manufacturers and related stakeholders with ensuring that their product meets the required quality and safety requirements and the information being given to the consumers on the label are fact checked and relevant.
About The Author
Ridhima Sen
Officer-Regulatory Compliance
TUV India Pvt. Ltd.
TÜV NORD GROUP