TUV India's Third Party Inspection and Verification Services team provides our customers quality with dedication.
TUV India's Inspection Services is a truly global provider of Technical Inspection, Verification, Conformity Assessment and other technical services for Industrial Markets. The core values of complete independence, transparency and integrity guide us in our mission to deliver world-class services at a consistent high quality level to customers around the world. Our Teams of Engineers ensure that the quality and performance of products or installations meet applicable requirements, whether they are regulatory, voluntary or client specific. We help to improve the integrity, quality and efficiency of equipment, assure safe and health working conditions for employees and minimize the environmental impact of industrial activities.
With the backup expertise available from TÜV Nord Group, Germany, TÜV India offers inspection services as a Third Party Inspection Agency for carrying out inspection at plant site as well at manufacturer's shop. TÜV India offer Third Party Inspection Services at locations all over India like Mumbai, Vadodara, Ahmadabad, Surat, Pune, Delhi, Kolkata, Chennai, Bangalore, Hyderabad, Hubli, Trichy, Coimbatore, Ludhiana, Aurangabad, Nagpur, Nasik, Kolhapur, Raipur, Raigarh, Rajkot, Bhopal & Gandhidham and other major Industrial hubs. Also we provide inspection coverage at worldwide locations in more than 100 countries through our group subsidiaries.
TUV India is the preferred partner for most of the Indian and MNC project companies due to our track record in multiple projects, wide presence of experienced inspection engineers and quick, quality services.
The Inspection Engineers of TÜV India are hand-picked with high skills & competencies to meet client expectations. TÜV India Engineers have themselves got hands on experience in fabrication, site construction, NDT and as a result are well aware of engineering problems/bottlenecks, therefore can contribute significantly in achieving the desired quality in project procurement. "Positive Inspection with highest quality is the Goal of TÜV India".
TÜV India has established and documented inspection stages for most of the equipment / construction activities. The inspection plans are tailor made to suit individual client's requirements. This provides uniformity of services and ensures full compliance to client requirements.
TÜV India has established proven processes for providing inspection services :
Our Quality System is certified for ISO 9001:2015
We are also IMS certified for ISO 14001:2015, ISO 45001:2018 and ISO 27001:2013
Accredited and recognized by NABCB as a Type 'A' Inspection body as per ISO/IEC 17020:2012.
Authorized by Indian Boiler Regulations(IBR) for inspection all over the world including India.
Recognized Inspector under SMPV(U) rules, 2016 by The Chief Control of Explosives, PESO, Nagpur
Approved TPI Agency by Directorate General of Quality Assurance (DGQA).
Approved by Hindustan Aeronautics Limited (HAL) as TPI
Enlisted as TPI by Defense Research and Development Organization (DRDO).
Empaneled with PNGRB for T4S audit and Inspections as per PNGRB directive.
We are also empaneled with major PSU's and multinational PMCs as an approved TPI for their project & procurement requirements
TUV India's Inspection Services offers a combination of wide range of specialized solutions and traditional services, during all stages, from Design through Procurement, Construction, Commissioning and Operations.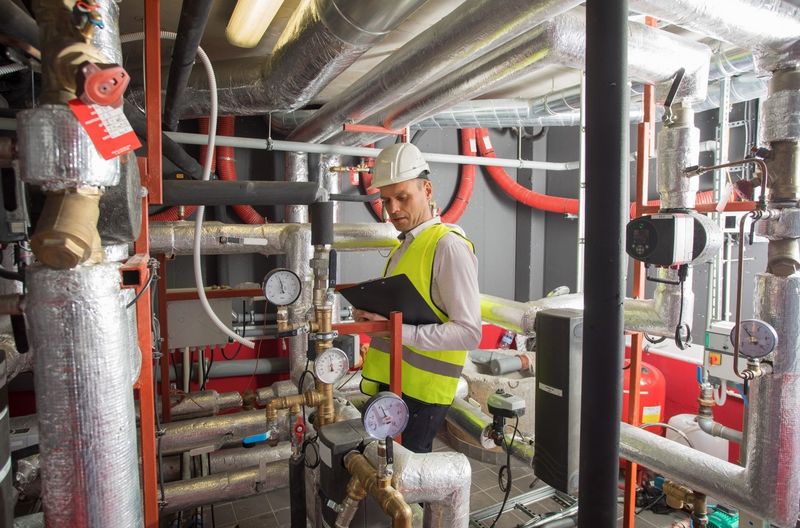 Vendor assessment and pre-qualification for project procurement
Engineering design review
Shop and site inspection involving stage and final inspection
Shutdown Inspection (Pre & Post Shutdown Inspection)
Witnessing performance tests
Pre-shipment inspection
Qualification of welding procedures and welders
NDT personnel qualification
Certification of materials and welding consumables
Health assessment of the plant
Piping and machinery inspection
Periodic inspection of lifting equipment
Process piping inspection during plant turnaround
Assessment of corrosion and erosion of the plant
Design Appraisal and Verification
Certification according to AD-2000 HP0 & W0
Document Verification
Electrical Equipment and Installations - Verification / Inspection
ASME (American Society of Mechanical Engineers) Inspection & assistance towards Certification for Stamping
ATEX Notified Body Services
Authorized Inspection Agency for Indian Boiler Regulation
Authorized Inspection Agency for SMPV Rules 2016
CE Marking as per PED 2014 / 68/EU – Inspections & Audits
Factory Acceptance Test
Evaluation of Second Hand (used) Machinery
Welding Inspection – Procedures & Welders, and Systems (ISO 3834)
European Approvals – EN 15085 (Railways), EN 1090 (Structures)
Singapore Ministry of Manpower Authorized Inspections
Malaysian DOSH Authorized Inspections
Globally acclaimed Testing, Inspection & Certification (TIC) body with over 32 years in India
Technically competent team with subject matter expertise
Track record of 80+ major projects gives deep understanding of expectations / requirements of your project
Wide spread coverage at PAN India industrial Locations and Global presence of Inspection team.
Regular training programs, Technical Circulars, e-learning courses and quizzes conducted for the engineers to ensure that their knowledge is updated as per latest industry developments & learnings
Having all required accreditation and certification & approvals
Customer Complaints resolution & Corrective / Preventive Actions
Onsite & Offsite Monitoring
Quality & Safety compliances
Meet Legal & Statutory compliances
Single Point Contact (SPC) for Coordination for smooth operations in India & Abroad
EOE (Exchange of Experience)
Ethical Code of Conduct & Confidentiality Agreement
Centralized Quality Assurance Team & dedicated KAM
Inspection arrangement on shorter notice period of 24/48 Hours
Availability of experts from all streams viz. Mechanical, E & I, Civil etc.
Reduce Technical & Commercial risks
We are looking forward to your enquiry
TUV India Pvt Ltd
TUV INDIA PVT LTD
803,804,805,Raheja Plaza I, LBS Marg, Ghatkopar (W), Mumbai - 400086