What is a Clean Street Food Hub ?
Clean Street Food Hub is defined as a hub or a cluster of 50 or more vendors/shops/stalls selling popular street foods, 80 percent or more of which represents local and regional cuisines and meets the basic hygiene and sanitary requirements. The Clean Street Food Hub excludes fine dining.
Indian Food Culture (IFC) is a collaborative project by Food Safety and Standards Authority of India (FSSAI) along with other government organizations, celebrity chefs, food historians, columnists, food bloggers, and street food associations, to curate, share and popularize knowledge on Indian Food Culture. Their key initiative is to create standards and benchmarks for Clean Street Food Hubs.
FSSAI first recognised the Clean Street Food Hub on 13th July,2018.
A food street is a dedicated street for eating out. Every state has its own famous and unique food streets, which showcases its local and regional cuisines and are famous for local as well as tourist attraction points. However, these food streets are under the widespread concern on basic hygiene practices and are perceived to be unsafe.
To upgrade the existing food streets across the country and provide safe & hygienic local eating experiences for domestic and international tourists alike, FSSAI with the support of state Government bodies has framed benchmarks for hygiene and sanitary conditions. Large scale training and capacity building of street food vendors would be an integral part of this pillar.
The objective of FSSAI is to raise the quality of street food vending to the level of food courts and established hotels and restaurants while preserving rich culinary heritage of the country.
Credibility is provided by recognizing such streets as "Clean Street Food Hub" through certificate of excellence.
To ensure health. Hygiene and safety standard of street food for all consumers.

To raise the quality of street food vending to the level of food courts and established hotels and restaurants.

To ensure social and economic up-liftment of street vendor community by helping them in improving quality offerings thereby attracting more customers.

To enhance the popularity of street food by transforming it into a global brand by itself.
The street food vendors shall be registered under Food Safety and Standards (Licensing and Registration of Food Businesses) Regulation 2011

.

-FSSAI Registration number and Food Safety Display Board (FSDB) should be displayed on the cart (Annexure 1)

.

Food Safety and Hygienic requirements:
Personal hygiene.

Location and facilities.

Street food hub.

Cleaning and sanitation.

Water supply and quality.

Pest control.

Left over and waste disposal.

Food preparation and cooking.

Handling and storage food.

Food serving

Education and training.
Audit process for Clean Street Food Hub: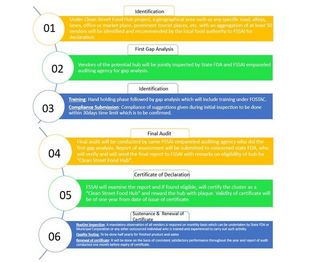 Those streets which meet 80% of the specified benchmarks shall be declared as "Clean Street Food Hub" and such streets must be incentivized by:
Awards based on the assessment done.
Certification/plaque system.
Rating of food streets by authorities as well as public.
How to interpret the scores?
| | | |
| --- | --- | --- |
| GRADE | SCORE | MATRIX |
| A+ | Above 135 | Compliance - Exemplar |
| A | 115-130 | Compliance - Satisfactory |
| B+ | 100-114 | Needs Improvement |
| No Grade | Below 100 | Non Compliance |
TUV India being a recognised and authorised certification body by the FSSAI to ensure food safety across the country will check and verify Food hubs and food festivals that comply with the Clean Street Food hub standards and benchmarks set by FSSAI. Such branding and certification would help to create consumer awareness and trust.
As TUV India is an auditing agency it promotes authentic Indian street food and cluster of street food vendors to be certified through a process of initial audit, final audit and thereafter sustenance and recertification through routine inspections and testing.
We are looking forward to your enquiry
TUV India Pvt Ltd
TUV India Pvt. Ltd
801, Raheja Plaza- I, L.B.S Marg, Ghatkopar (W) Mumbai 400 086