Automotive QMS: IATF 16949 and Aerospace QMS: AS9100
Automotive QMS: IATF 16949 and Aerospace QMS: AS9100:
In India, automotive and aerospace sectors are growing very fast. Both sectors rely on rigorous quality requirements and effective quality management systems. Automotive and aerospace QMS standards have become more popular for most of the Global manufacturers. Many automotive QMS certified organizations are now supporting aerospace business sectors, are interested in understanding the difference between both standards.
Automotive and Aerospace professionals argue that their standard is more stringent, but having audited both standards, it's my impression that both standards are having its own importance and critical to their sectors, indeed many similarities and differences exists between these two. In my view each standard can be used for cross learning.
Both Automotive Standard (IATF 16949) and Aerospace Standard (AS9100) are based on ISO 9001 standard, along with ISO 9001, each sector specific requirements have been added to make sector specific standard. Automotive is concerned with extremely high levels of consistency with high volumes and Process improvements; savings in time and money is a crucial part. Aerospace is concerned mainly with making flight worthy parts with the controls needed to accomplish that mission.
Automotive standard (IATF 16949) is prepared by IATF ( International automotive task force) specifically for automotive sector with the Goal of continual improvement, defect prevention, and reduction of variation and waste in the supply chain. Current version of standard is IATF 16949:2016. Automotive QMS certification requires automotive client as a mandatory requirement. Clients Include Passenger cars, light commercial vehicles, trucks, buses, motorcycle. Whereas aerospace certification primarily developed for the aviation, space and defense industry, can also be used by any organization that are practicing ISO 9001 QMS and aiming for benefits of improved quality, cost, and delivery performance. Aerospace standard is prepared by IAQG (International aerospace quality group with the aim to improve customer satisfaction, continual improvements, safe and reliable products. Current version of standard is AS9100 rev D: 2016. Aerospace QMS certified organizations will be listed in the OASIS data base (Online Aerospace Supplier Information System) This online resource contains a list of suppliers who are certified/registered under IAQG rules to be in compliance with the aerospace QMS requirements.
TUV India, looks forward to support for training and certification services for automotive and aerospace QMS standards.
The below block diagram shows the similarity and differences in both standards: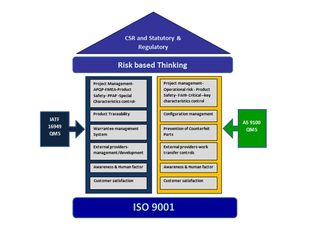 About The Author
Vijaykumar Kannur
Senior Lead Auditor - Automotive
TUV India Pvt Ltd
TUV NORD GROUP